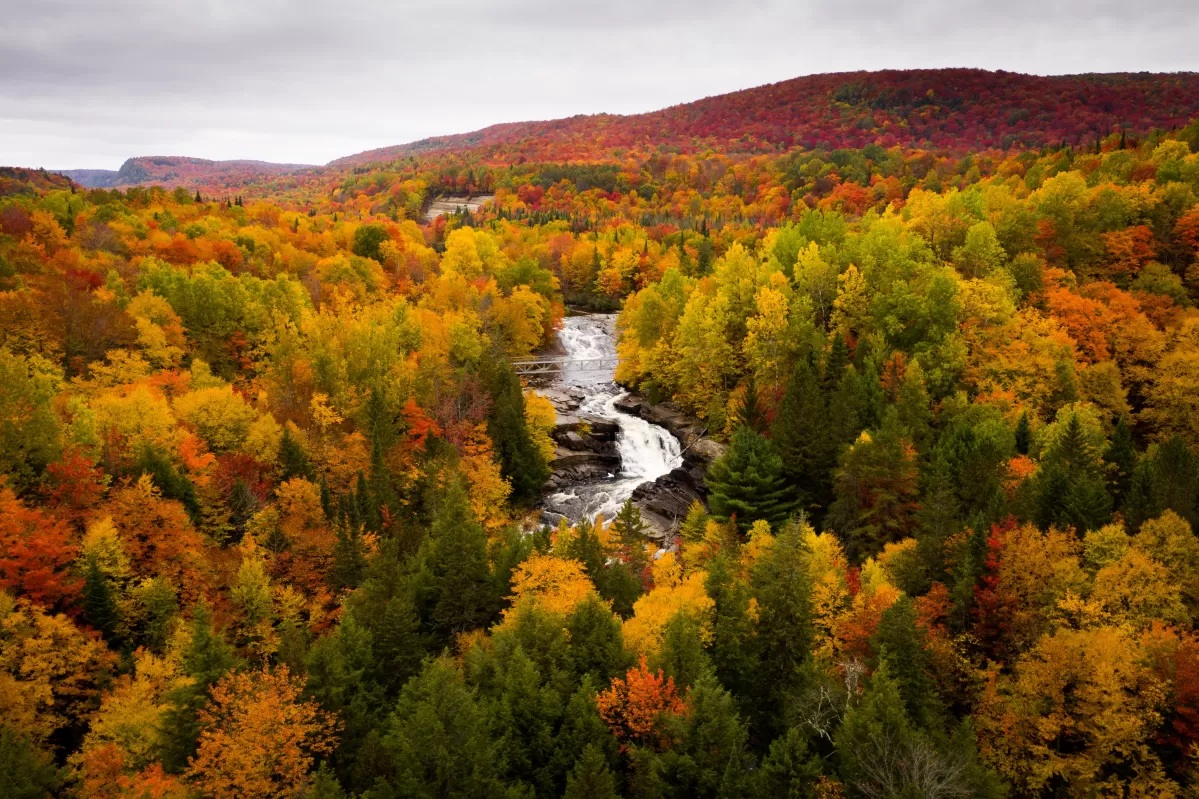 10 top hiking spots in Portneuf
By David C, September 18 2023
Whether you fancy an expedition for a few days in the local mountains, taking a stroll along the banks of a majestic river or exploring the wetland and shores of the St. Lawrence, the hiking possibilities in Portneuf are endless. With hundreds of kilometres of trails for all levels and tastes, you are sure to enjoy an unbeatable experience in the region. Here are ten top places to stretch your legs this summer!
Parc naturel régional de Portneuf
Administered by a social economy enterprise, the Parc naturel régional de Portneuf allows you to visit an exceptional territory while contributing to its preservation and development. The park is divided into two distinct territories and several sectors, so all you need to do now is choose from among its 70 km of trails!
The gorge sector of the Sainte-Anne River is ideal for families and offers a stunning view of the rocky cliffs. The site is also home to an historic hydroelectric power plant dating back to 1926, and you can even take a walk through the old wooden penstock! Children can enjoy a hebertism track.
In the Long and Montauban lakes sector, discover the Chutes à Marcotte, the cliffs of lac Long, the potholes of rivière Noire and the montagne de la Tour via intermediate and difficult trails. What's more, in addition to numerous rustic campsites, many ready-to-camp tents are available.
Find out more
Vallée Bras-du-Nord

The trails of Vallée Bras-du-Nord offer you breathtaking scenery with spectacular views of the surrounding mountains. A variety of nature activities are available, with itineraries ranging from short walks to multi-day hikes. With over 80 km of trails, the valley provides one of the most extensive networks of hiking trails in Quebec. You can choose from several types of accommodation: chalets, yurts, camping, rustic huts and hotels.
Find out more
Promenade Jacques-Cartier
Promenade Jacques-Cartier is a walking trail linking Maison Déry and Moulin Marcoux in Pont-Rouge. With its 30 interpretive panels, this 4.6-km route along the majestic Jacques-Cartier River allows you to explore the town's flora and history.
Find out more
Réserve naturelle du Marais-Léon-Provancher

Neuville's Réserve naturelle du Marais-Léon-Provancher is the ideal place for nature walks and birdwatching. This charming site combines several habitats, including marsh, forest and the banks of the St. Lawrence River. Primary school pupils and families with young children can enjoy two scavenger hunt-type games along the trails. A podcast tour is also available to help you learn about the reserve's unique environment and its inhabitants.
Find out more
Centre de plein air Dansereau
Pont-Rouge's Centre de plein air Dansereau is an exceptional site offering outdoor activities through its unique access to the banks of the Jacques-Cartier River and the surrounding forest. A multipurpose trail runs for 8 km along the river, and then meets the La Liseuse trail towards Sainte-Catherine-de-la-Jacques-Cartier. You will enjoy the beauty of the ruins of the Dansereau sawmill, wildlife and woodland scenery.
Find out more
Chutes de la Marmite

Chutes de la Marmite is one of Rivière-à-Pierre's biggest tourist attractions. In the 1920s, the site was home to a hydroelectric dam that provided the municipality with power. The whole family will enjoy its easy-level walking trail stretching for approximately 1 km. Bring your picnic and take in the beautiful scenery!
Find out more
Tourbière Chute-Panet
This short, family-friendly trail will transport you into the heart of a unique ecosystem just a stone's throw from downtown Saint-Raymond. Tourbière Chute-Panet is considered one of the region's most exceptional natural sites. It is outstanding not only for its beauty and peacefulness, but especially for its plant diversity, which is highly characteristic of peat bogs, with thick mats of sphagnum moss, orchids and carnivorous plants.
Find out more
Réserve faunique de Portneuf

The Réserve faunique de Portneuf is an immense 774-square-km territory managed by SEPAQ at the northern limit of the transition zone between the Canadian Shield and the St. Lawrence Lowlands. With 375 lakes, 11 rivers and a wide diversity of terrestrial, aquatic and avian fauna, the reserve offers you all of nature's pristine beauty. Come and explore this wonderful natural area on one of its seven trails. What's more, most of the fishing and hunting trails (with salt licks) are also ideal for forest walks. If you are looking to spend a few days here, there are several accommodation options to choose from: cottages, rustic huts, ready-to-camp tents and camping.
Find out more
Mont Laura-Plamondon
Mont Laura-Plamondon Park is part of Saint-Raymond's religious heritage, with at its summit the small chapel of Notre-Dame-de-l'Assomption. Thanks to its higher elevation, Mont Laura-Plamondon offers a breathtaking view of Saint-Raymond and part of the region of Portneuf. Trails, picnic tables and a children's play area can also be found here.
Find out more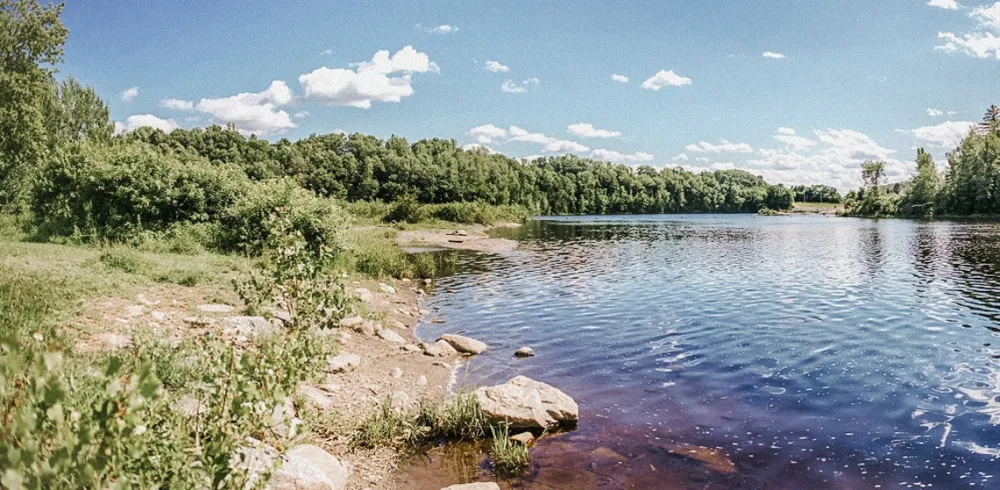 Parc familial des Berges
Located in Donnacona, this park is the ideal place for a short hike, with 2.3 km of interpretive trails winding through a large marsh on the banks of the Jacques-Cartier River. And let's not forget the children's playground! If you are travelling along the Chemin du Roy and need to take a break to stretch your legs or have a picnic, now you know where to stop!
Find out more
Accessible outdoor activities
In association with the Association régionale de loisir pour personnes handicapées de la Capitale-Nationale, the Association des personnes handicapées de Portneuf and Autisme Québec, the MRC de Portneuf has created an outdoor activities map detailing twelve sites in the region that are accessible to people with reduced mobility.
See the map here
Our trails are calling? On the way to your next adventure, try one of our playlists on Spotify! And don't forget to share your best photos using the #PortneufInegalable tag. Enjoy your hike!
--------
Bonus
For more outdoor suggestions, visit our Nature section.
Cyclists, click here to discover our 7 best spots for cycling in Portneuf.
For water sports enthusiasts, right this way.