Ready to ride? 10 good reasons to take direction of the Jacques-Cartier/Portneuf cycling path this summer!
By David C, June 3 2023
More and more people are hitting the road on their bikes. We get it—cycling is accessible and easy to do as a family, and it takes people places they couldn't necessarily go by car. And, of course, it's good for you.
The Jacques-Cartier and Portneuf regions are already a mountain biker's paradise with their many forest trails, but they also offer a number of options for road biking. The crown jewel? The Jacques-Cartier/Portneuf cycling path, which links Saint-Gabriel-de-Valcartier to Rivière-à-Pierre.
Never tried it? Here are 10 good reasons to give it a shot this year.
1. It's open for all types of bikes
The trail runs along a 68-km stretch of a former railway right-of-way. While it's paved with crushed stone, it's smooth enough for even road bikes.

2. It's accessible to everyone
Since the trail has a maximum incline of 3 to 4%, it's easily accessible to cyclists of all levels. You don't need to be an expert to enjoy it. Even better, it's free to use!
3. A shuttle can take you back
Are you worried about being too tired to bike back home? We've thought of everything! A shuttle service is offered on 5 dates during the summer. Otherwise, you can book a taxi-shuttle at any time to come pick you up or drop you off anywhere along the trail.
4. Several charming rest stops await
The cycling path is meant to be enjoyed at your own pace, even if that means taking breaks to soak in the scenery. There are a number of charming rest stops along the cycling path. You won't want to miss the wonderful stop at KM 53, with its Adirondack chairs!
5. The scenery is always changing
You'll never get bored as you bike because you'll be passing through a number of different landscapes, ranging from cities to forests to waterfronts.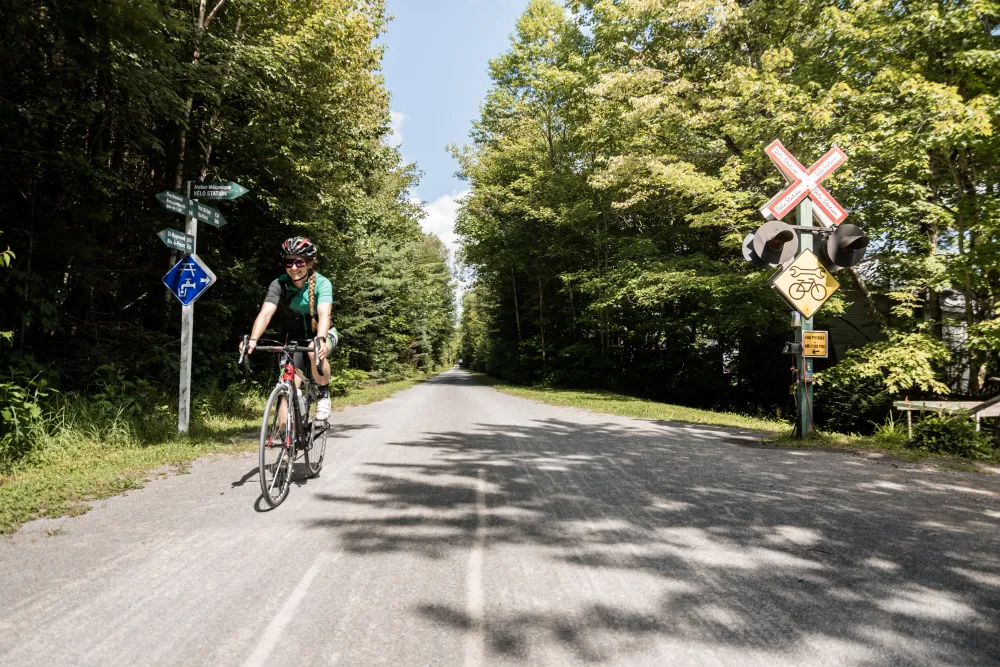 6. Seven perfect rustic campsites setup
Want to live the experience to the fullest? Book one of the rustic campsites located in the northern portion of the trail. Accessible only by bike, these sites have everything you need in terms of equipment to make your stay in nature just perfect... and away from the cellular network!
7. Many attractions are just minutes away
If you want to take the opportunity to visit local attractions, it couldn't be easier! There are several favourites within easy reach of the path, including the Station touristique Duchesnay and its Labyrinth, the historic downtown area of Saint-Raymond, full of must-see, including La Maison Plamondon, as far as Rivière-à-Pierre, where L'Escale au Lac offers you a real nature immersion by going to the rustic thermal experience, available with or without lodging.
8. There are plenty of opportunities to take a dip
Biking can be hot and sweaty, but cooling off won't be a problem. In Sainte-Catherine-de-la-Jacques-Cartier, the path connects to the Station touristique Duchesnay and its beach. A little further away, Centre Vacances Lac Simon is another ideal place to enjoy a swim in a natural lake with a beach.
9. There are places to stay along the way
You don't need to cycle the path in a single day! It runs near a number of bike-friendly places to spend the night, whether you're looking for a campsite, a hotel, an inn, a cottage, or a tourist resort.
10. Rivière-à-Pierre is a must-see
The finish line is excellent motivation to complete the entire cycling path. Rivière-à-Pierre, the "granite capital", is simply magnificent with its train station, its Chutes de la Marmite waterfalls, and its (free!) granite interpretive centre. And if you're looking to continue your adventure, you can always hop on a train to Lac-Saint-Jean.
So, no more excuses and put the Jacques-Cartier/Portneuf cycling path on your itinerary this summer!